TODAY'S THE DAY!!!! Boone Community School District is hosting a Job Fair TODAY at the Boone Middle School from 3:00 p.m. to 6:00 p.m. Enter the main doors (north side of building) and a representative will greet you. We are asking everyone to bring a list of 3 references. If you have additional questions please call Amy Eckard, Administrative Assistant to the Superintendent at 515-433-0995 xt. 1122 or
aeckard@boone.k12.ia.us
. See you tonight!!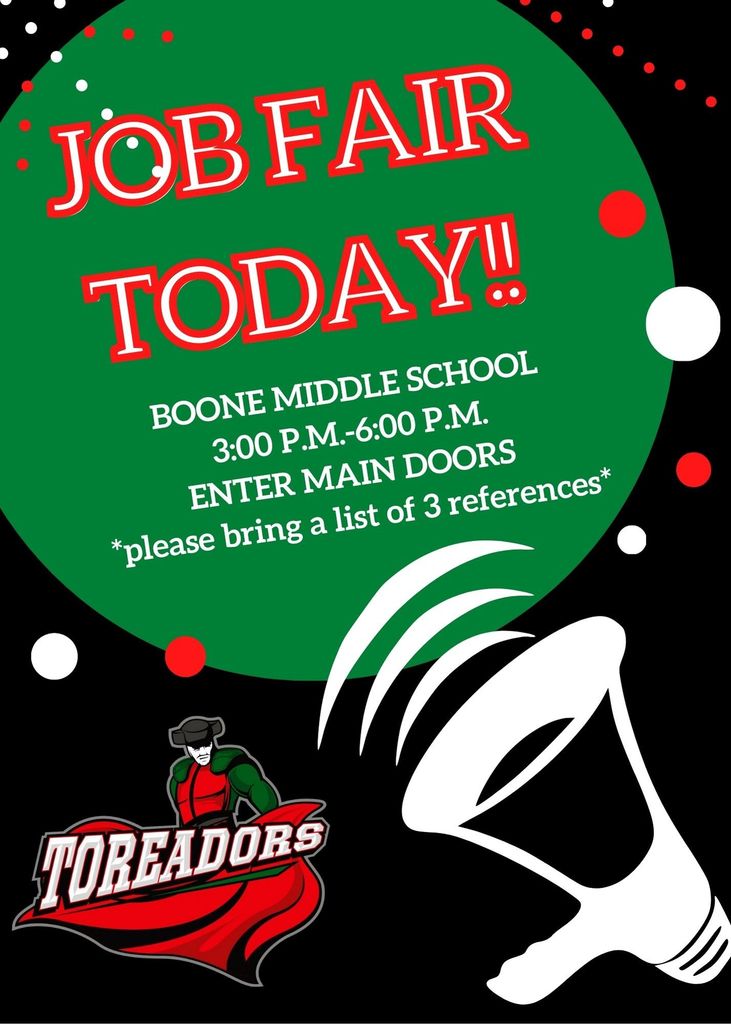 4A State Championship Game Western Dubuque vs. Boone 5:00pm (Kruger Seeds Field) Harlan Rogers Sports Complex (Fort Dodge) Bus Departure: 11:45am Tickets: Varsity Bound Online:
https://ia.varsitybound.com/sports/softball/2020-21/tickets
($10 plus fees) or at Gate ($12) Parking: $10 Radio Broadcast: KWBG 1590
https://www.kwbg.com/audio/listen-live/
Game Livestream:
https://www.iowapbs.org/watch
Following the game, there will be a Reception for the team back in Boone! *The Team Bus will be escorted back to town by Boone Fire & Rescue (Hwy 30 North to 8th St., Left on Harrison, Left on 7th St.) *The Team will be dropped off at the Boone High School Commons for a Reception with Families. (Approx. 9:00pm) *A short Community Recognition will be held in the High School Gym to follow. (Approx. 9:30pm) Best Luck to our Girls Today! Roll 'Dors!

Did you know? Registration is now required for the 2021-2022 school year for all students new and current. Hop on your Infinite Campus Parent Portal and click the 'more' option in the left hand corner and then click 'online registration'. We are so excited to see everyone back in just a few short weeks!
2021-22 Student Registration Is Now Open!!! Starting this year, we are requiring that all students register at the beginning of every school year. Registration and Registration fees are also done through the parent portal. The registration process is done through your parent portal by going to the link below:
https://booneia.infinitecampus.org/campus/portal/parents/boone.jsp
You may also access student registration by going clicking the Online Registration button on the homepage of our website:
www.boonecsd.org
If you do not have a parent portal please email:
notice@boone.k12.ia.us
If you would prefer to register your student(s) in person, or do not have internet access please call the Central Office at 515-433-0750 to set up a time to register. Questions please call: Tanya Boustead, Registrar at (515) 433-0995 ext 1124 We are looking forward to a great 2021-22 school year!
*Tickets for Friday's District BASEBALL Game vs. Creston at 7pm at Memorial Park in Boone are on sale now - online only. The IHSAA is using Hometown Ticketing for Postseason Games: Link for Purchasing is
https://www.iahsaa.org/tickets/
-Tickets are $6.00 K-Adult (plus processing fees) and will be Sold Online Only -If help is needed: HomeTown Ticketing at 866-HTT-4TIX, Option 3 for Support or
fansupport@hometownticketing.com
-Tickets can be presented as paper copies or digital by phone, but will need to be scanned at a gate. -All patrons must have an online purchased ticket. -No passes will be accepted because of it being an IHSAA Tournament Game. We do not plan to put up the windscreen in the outfield to prevent seating. However, there will be 3 gates for check-in. *Main Gate (South Entrance by the Concession Stand) *SW Gate on Greene St. and 20th st. *NE Corner Gate on Boone and 21st St. If you need a more detailed explanation on how to purchase tickets - click on this link -
https://docs.google.com/.../1Lkll93EGgboJDFaciXcu.../edit
...
Boone CSD is eager to fill vacant positions within our District before the start of the 2021-2022 school year!! We are hosting a job fair on Wednesday, July 28th at Boone Middle School from 3:00 p.m. to 6:00 p.m. Please bring your resume, a list of references and previous employment if you plan attend the job fair. Also, you may schedule a guaranteed interview for this evening, the deadline to schedule these interviews is Monday, July 26th. To schedule your interview or if you have additional questions please call Amy Eckard, Administrative Assistant to the Superintendent at 515-433-0995 xt. 1122 or
aeckard@boone.k12.ia.us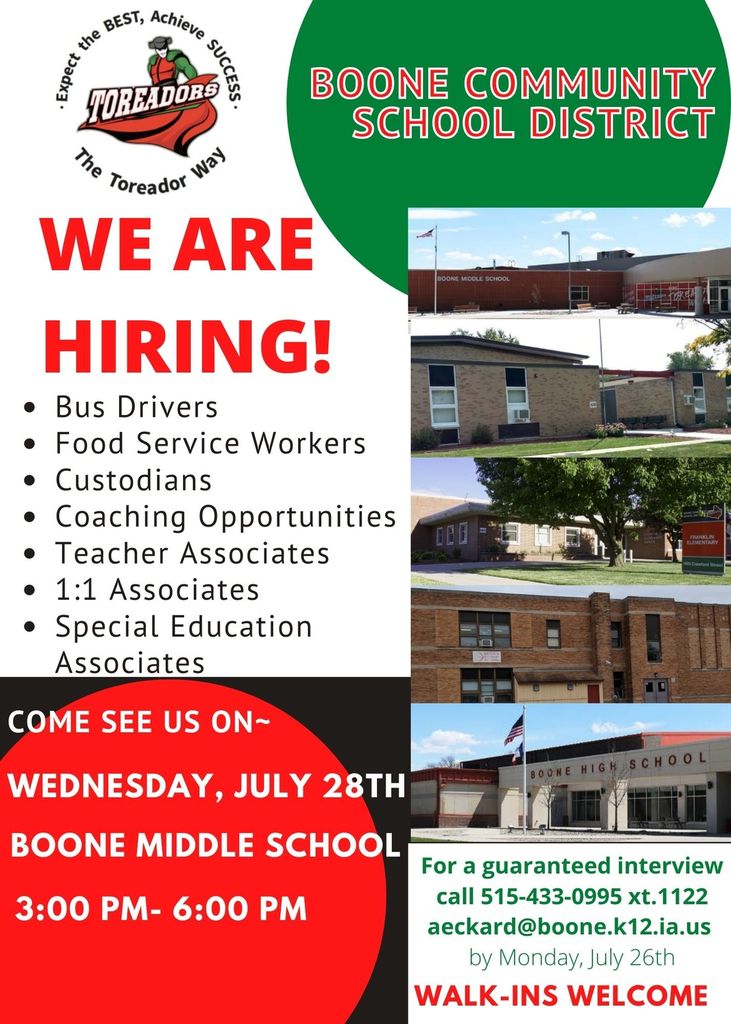 The Toreador Softball Team qualified for State!!! They will take on Carlisle on Tuesday, July 20th at 1:30 p.m. at Fort Dodge's Harlan & Hazel Sports Complex. Click on the link below to order a State Softball shirt. They will arrive in time to be worn for the first game on Tuesday. Shirt pick-up time and place will be announced soon!
https://boone-state-softball-21.itemorder.com/sale



7th and 12th GRADE VACCINE REQUIREMENTS for 2021/22 School Year Iowa Immunization law requires all students entering 7th grade must have received a Tdap booster and proof of one meningitis vaccine. 12th graders will need proof of 2 doses of the meningitis vaccine, or 1 dose if received after the student was 16 years or older. All students entering 7th and 12th grade must have a certificate on file of proof of receiving the Meningococcal vaccine and Tdap in order to attend the first day of school. The state does NOT allow a grace period or extension. Now is a great time to ensure your student meets the immunization requirements and is able to begin school on August 23, 2021. Health care providers continue to recommend students remain up to date on required immunizations. Appointments can be made with your student's own health care provider or by calling Boone County Public Health at 432-1127. If your student has already received vaccines, please forward a copy of the immunization certificate to the student's school. FAX TO: School Nurse at MS Fax # 515-433-0026 HS Fax # 515-433-0989 MAIL TO: School Nurse at Middle School High School 1640 1st Street 400 7th Street Boone, IA 50036 Boone, IA 50036



Boone Comunity School District to Offer Free Summer Meals to All Kids When school lets out for the summer, kids 18 years old and younger can continue to receive free nutritious meals from Boone Community School District. There is no application necessary to receive meals and families do not have to show proof of income. The meals are funded by the federal government to ensure kids and teens receive nutritious meals during June, July and August. These free meals can help families save time and stretch their household food budget while providing children with sound nutrition and a connection to their schools during the summer. Meals provided by school districts and nonprofit organizations are an important safety net for hungry kids and families. According to hunger advocacy organization Feeding America, demand at U.S. food shelves increased more than 55 percent following the outbreak of COVID-19 in 2020. In 2021, Feeding America estimates that "42 million people, including 13 million children, may be at risk of hunger." FREE MEALS ARE AVAILABLE: Monday - Friday at Boone High School Cafeteria The varied meals all meet federal nutritional guidelines to ensure kids get the nutrition they need for growth and development. The meals include foods such as walking tacos,hamburgers chicken nuggets, fruit and/or vegetables, yogurt, crackers or chips and milk. Kids and teens ages 18 and younger can just show up during the hours of operation. In addition to BCSD, other summer meal sites can be identified by texting "Summer Meals" to 97779 or calling 1-866-348-6479.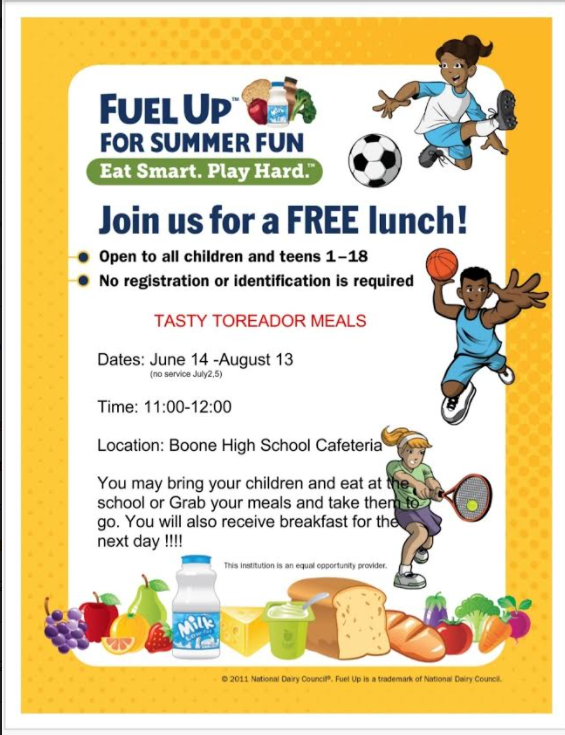 It just doesn't feel the same around here without you! We miss you already! Congratulations on your retirement Joyce Hill and for the amazing 17 years of unforgettable service to Boone Schools Nutrition Department!


Last week of school announcements: We will have a 2 hour early dismissal Wednesday the 2nd. The Last day of school will be Friday June 4th. This day will also be a 2 hour early dismissal.

It's graduation day! Come celebrate the Class of 2021 at 2:00 pm at Goeppinger Field.